What we do
Established in 2007, Methal Company Works in manufacturing stamped, welded and assembled kits, in addition to mechanical systems for the agricultural, automotive and construction segments. We are acknowledged by the market for developing production processes based on the design of parts provided by large OEMs.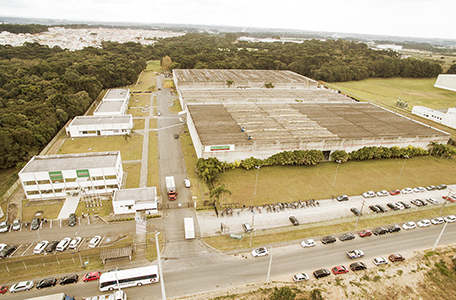 The product manufacture process occurs in-house with the state of the art in equipment. In addition to pre-produced projects, Methal Company also works with co-design, undertaking joint design development with the OEMs involved.
In its over ten years in existence, three joint ventures were undertaken bringing innovation and new solutions to the national market.
One of the companies in the group, Methal C. is also responsible for manufacturing grain harvesting headers.
Methal Company
Methal Company is a company with a vertical structure that manufactures components and kits for OEMs in four segments: agricultural, trucks and buses, automobiles and construction equipment.
The company is known on the market for creating productive processes for pre-produced designs as well as performing co-design with large OEMs.
Among the brands that use the parts produced are: New Holland Agriculture, New Holland Construction, Case IH, CASE Construction, Massey Ferguson, Man, Renault, Scania, IVECO, Volvo, Valtra, Volkswagen, MWM International and Nissan.
Methal C.

The characteristic of Methal C. is manufacture of agricultural implements.
The company story starts with supplying exclusively headers for Case IH Axial-Flow combine harvester range. The pioneering attitude was carried into the field and, today, the company produces one of the largest steel headers for corn harvesting produced in Brazil. The header has 27 lines by 50 cm.
The company also offers the option of aluminum chassis.
Certifications
The company has a number of certifications that ensure care with the environment and process and end product quality.
These are the respective pant certifications:
Methal Company
IATF 16949.2016 | ISO 14.001 | ISO 9001.2015 | IATF 2016 | VDA 6.3
Methal C.
ISO 9001.2015 | ISO 14.001
These are the official certificates:
Quality and Environment Policy
Methal Company Indústria Metalúrgica, with presence on the National and Mercosul markets has as priority in the deployment of its integrated management system:
Customer satisfaction and environmental preservation.
For this practice to be present throughout the company, the following commitments are taken on:
Provide products and services that meet specific customer requirements, standards, legislation and other applicable requirements, with a commitment to preventing pollution and minimizing environmental impacts generated by its activities and processes, especially in the generation of waste;
Continuously improve quality and environmental management by establishing an Integrated Management System that includes goals and targets for measuring performance;
To act preventively in order to improve our processes, environmental protection and natural resources to meet the demands of the business and its stakeholders;
Provide knowledge to our employees enabling them to perform their activities addressing the commitments made with respect to quality, safety and environment.
Mission, Vision and Values
MISSION
"To grow, exceeding the expectations of our customers and shareholders, through competitive business management focused on safety, quality, technology, robust and sustainable processes with committed and qualified people."
VISION
"To be recognized as world class supplier of stamped, welded and assembled sets in the metal mechanics, automotive and agricultural segment, through the Methal Company production system"
VALUES
ETHICS: Set of behaviors that guide the behaviors of people and company.
RESPECT: Mutual among customers, employees, suppliers and environment.
INNOVATION: Be up to date with market trends and needs.
COMMUNICATION: Ensure everyone has access to objectives, targets and results.
SAFETY: Guarantee the physical and moral integrity of all employees.
COMMITMENT: Feel part of the Vision and wish to make it a reality.
SUSTAINABILITY: Preserve the environment and guarantee basic survival conditions for future generations.
ATTITUDE: Assertively make decisions aligned with the company priorities.